4 Tips for National Bath Safety Month
Keep the fun in the tub throughout the month of January.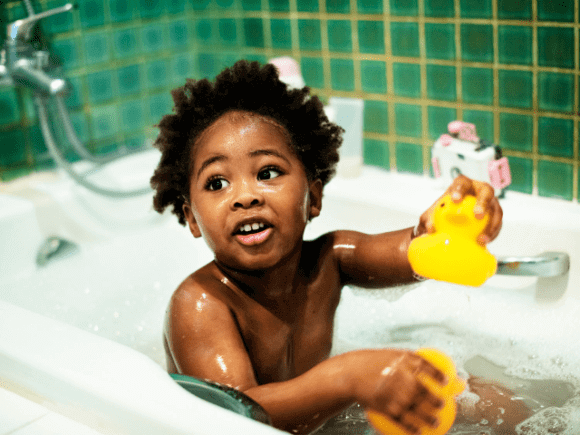 Stay with her. The American Academy of Pediatrics recommends that children 4 and under always have a parent or caregiver present when they are near water, including the tub. Accidents can happen in an instant.
Prevent slips. Young children do not have the coordination or strength to hold steady if they lose their balance. Affix a slip-resistant plastic mat that suctions to the bottom of the tub and make sure the throw rug outside the tub does not slide when stepped on. Consider installing a grab bar for kids to hold onto when stepping in and out of the bath.
Test the temperature. Always wait until the tub is finished filling up before placing your child in the water, as the temperature can change. Set your home's water heater to deliver water no hotter than 120 degrees to lower the risk of scalding. If you don't have control over the heater, buy an anti-scald device that attaches to the faucet.
Beware of sharp edges. Use a rubber cover for the faucet head and drape a towel over metal rails for shower doors when your child is in the bath. Make sure any glass shower doors are made of shatterproof glass. Avoid bath toys with hard edges or points that could be hazardous if your child falls onto them.
Nicole Falcone is a health and fitness writer from Huntington, NY.
Sources: Gary Smith, M.D., director of the Center for Injury Research and Policy at Nationwide Children's Hospital in Columbus, OH.
Photo: Steven Errico/Getty Images