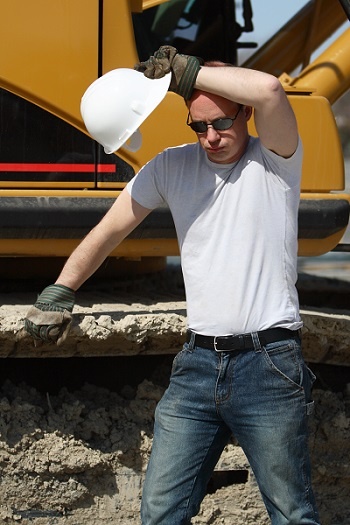 Oil and gas workers routinely encounter heavy machinery, hazardous materials, and chemical byproducts – exposures that can put them at significant risk for occupational disease (OD). Managing these exposure risks is critical to prevent high-impact workers compensation claims, avoid heavy fines for violating Occupational Safety & Health Administration (OSHA) regulations, and, most importantly, keep employees safe. Scan our checklist of four key occupational hazards, along with risk-reduction tactics that can keep your company prepared.
1. Hydrogen sulfide (H2S)
The risk: Hydrogen sulfide is a colorless, flammable gas that has a "rotten egg" smell. Depending on level of exposure, it can cause respiratory irritation or other complications that can lead to death.
The exposure: Hydrogen sulfide occurs naturally in crude petroleum and natural gas, and can collect in low-lying and enclosed, poorly ventilated areas.
Best practice: Active monitoring for hydrogen-sulfide gas (including personal wearables); routinely calibrated rig-detection systems; and safety training programs and emergency-management protocols for workers.
2. Silica
The risk: Long-term, repeated exposure to respirable crystalline silica dust can cause silicosis, an incurable lung disease.
The exposure: Dust can be produced during processes that use sand, such as hydraulic fracturing. Potential exposure may be greatest for workers in loading, unloading, transporting, and storing sand.
Best practice: Sampling breathing zones to monitor exposure (especially in fracking operations); suppressing dust with water on roads and well sites; reducing distances between belt conveyors and blender hoppers; using centralized dust-control systems; and requiring workers to use NIOSH-approved respirators as needed.
3. Volatile organic compounds (VOCs)
The risk: VOCs are emitted as vapors from naturally occurring components of crude oil. They include benzene, ethyl benzene, toluene, and zylene. High concentrations can create an oxygen-deficient environment, leading to loss of consciousness or death.
The exposure: Tasks with the greatest risk of airborne VOCs are tank gauging, tank sampling, and fluid transfer.
Best practice: Engineering controls such as remote or automatic gauging or sampling, blowdown valves, and so-called "thief hatch" pressure indicators; working upwind and away from open hatches; and using personal protective equipment.
4. Noise
The risk: Hearing loss can occur from loud noises and explosions, or continuous high levels of noise.
The exposure: Oil and gas workers can be exposed to harmful noise levels for extended periods during equipment operation.
Best practice: Hearing conservation programs that protect hearing and equip workers with protection devices necessary to safeguard themselves; and assessing noise levels to meet OSHA standards of permissible exposure limit for noise at 90 dBA, as an eight-hour time-weighted average.
Occupational disease is only one of many hazards that affects the energy sector. For more information on protecting your company from risk, read our related article on occupational hazards in the oil and gas industry.