These outdoor cookers blend the best parts of cooking with gas and charcoal. What to consider when buying a pellet grill.
Pellet Grills Are Hot. Here's Why.
These outdoor cookers blend the best parts of cooking with gas and charcoal. What to consider when buying a pellet grill.
By Paul HopeLast updated: July 30, 202043 SHARES
PHOTO: TRAEGER
Gas and charcoal grills have dominated the U.S. market for more than half a century. Gas delivers convenience because it starts instantly and lets you control the heat by turning dials. Charcoal gives you more control because you can build and shape any size fire to direct the heat, and charcoal imparts a smoky flavor.
What if there was a grill that proved to be even easier to use than gas—and also imparted a distinctly smoky flavor, reminiscent of foods painstakingly cooked for hours over stoked coals? That's the promise of pellet grills.MORE ON GRILLSCR's Grill Ratings & Buying GuideBest Gas Grills of 2020Best Charcoal Grills of 2020Best Pellet Grills of 2020Best Kamado Grills From Consumer Reports' Tests
"Pellet grills have been around for more than 30 years, but you could only get them at specialty retailers, and you'd pay top dollar," says Mark Allwood, CR's market analyst for all the grills we test. "But they've made the shift from niche to mainstream, in part because grilling has surged in popularity in recent years."
That means you'll now find pellet grills at home centers such as Home Depot and Lowe's. And, Allwood says, they don't always carry a premium price—many models are available for $400 or even less. Some pellet grills from premium brands such as Traeger and Weber, though, cross the $1,000 mark, particularly top-of-the-line models with built-in Bluetooth and WiFi capabilities.
What Matters to You Matters to UsWe test thousands of products so you can create your best home.Join
How a Pellet Grill Works
A pellet grill looks like a gas grill, with a metal hopper mounted to one side to house the wood pellets they burn as fuel. The resulting fire imparts a smoky taste because the wood pellets are made from flavorful hardwood species such as hickory, oak, pecan, and cherry.
Today's pellet grills feature an electronic thermostat with a digital display, so you can dial in a precise cooking temperature; the hopper automatically draws the appropriate amount of pellets into the firebox, where they're ignited. The grill holds the temperature steady, like an oven, adjusting the rate at which it burns pellets to maintain that set temperature.
To learn more about pellet grills and other grill types, start with our grill buying guide. CR members can also jump right to our pellet grill ratings to see how specific models fared in our tough tests for evenness, indirect cooking, and temperature range.
How Pellet Grills Rate
Our pellet grill ratings include 12 models from brands such as Broil King, Camp Chef, Louisiana Grills, Pit Boss, Traeger, Weber, and Z Grills. Here's how these grills perform as a group across specific tasks in CR's tests.
Indirect Cooking
Perhaps the biggest appeal of a pellet grill is its ability to maintain a low, steady temperature for hours on end without the need to make any adjustments. That's the precision you'd want when it comes to slow-smoking ribs, brisket, or pulled pork without burning or drying out the food. All the pellet grills we've tested perform this crucial task well, and as a group, it's the cooking function at which they perform the best.
Evenness
This test captures how uniformly the heat is deflected across the entire cooking surface. That doesn't matter so much for smoking, but it's critical when you're cooking a bigger batch of foods that are similar in size and shape, like burgers and hot dogs. An even-heating grill ensures that everything comes off the grill at once. Pellet grills tend to heat very evenly, and as a group, they're far more even-heating than gas grills. Those that fare best in our testing overall heat a bit more evenly than some of the lower-scoring models.
Temperature Range
This is the biggest limitation of pellet grills. Most max out at around 500° F, while many of the gas and charcoal grills we've tested get as high as 800° F. Kamado grills, like the Big Green Egg, can reach temperatures in excess of 1,000° F for searing. Pellet grills make up for this in part by excelling at the low end, getting down to temperatures as low as 150° F. Most of the pellet grills in our ratings receive middling marks for temperature range and aren't the grill you'd want if searing steaks is your top priority.
Convenience and Cleaning
As a group, the pellet grills we've assessed are all over the map when it comes to cleaning and convenience. As with any type of grill, some designs are better than others. One of the easiest-to-clean models drains all the fat drippings right into a metal bucket mounted to the side of the grill, where you'll see it and remember to empty it. (Most grills hide the fat drip tray in a spot that makes it too easy to forget.) The best also have large casters, which make them easier to move, and ample shelf space—in addition to side-mounted shelves. The most premium models have built-in temperature probes, WiFi, and compatible apps, so you can check the temperature of a brisket from across the yard and even adjust the temperature from your phone.
Should You Buy a Pellet Grill?
Pellet grills are the perfect fit if you like the taste of smoke and don't care too much about searing. They're versatile enough to tackle chops, fish, and, of course, classics such as ribs, brisket, and pulled pork.
But if you're into burgers and brats, spending a lot on a pellet grill is probably overkill. By the same token, if you're into wood-fired pizza, or charring steaks or chops, you might be better off with a kamado grill, which generally excels at these high-heat tasks in a way no pellet grill can match.
Then consider the pellets themselves, which you can buy at home centers, hardware stores, or online. If you're a die-hard barbecue enthusiast, remember that the smoke imparted by wood pellets may seem tame compared with the flavor profile you get by loading up your charcoal or kamado grill with wood chips.
Pellet grills are exceptionally easy to start and offer a level of temperature control without equal. They also excel at cooking things like veggies, chicken breasts, pork chops, or just about anything that can border on boring without a touch of smoke. And though they might not operate at a temperature range as broad as that of a kamado grill, it's easy to see how, for an aspiring pitmaster or even a casual backyard chef, a pellet grill is tough to beat.
5 Best Pellet Grills From CR's Tests
TOP PICKS
1 RECOMMENDEDEVENNESS PERFORMANCEINDIRECT COOKINGTEMPERATURE RANGE
2 RECOMMENDEDEVENNESS PERFORMANCEINDIRECT COOKINGTEMPERATURE RANGEUnlock Grill Ratings
And access over 9,000 products and services rated.Become a Member or Sign in43 SHARES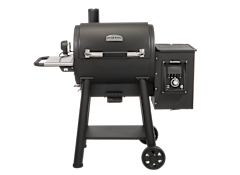 12Pellet Grills RatedAccess Ratings

Paul Hope
As a classically trained chef and an enthusiastic DIYer, I've always valued having the best tool for a job—whether the task at hand is dicing onions for mirepoix or hanging drywall. When I'm not writing about home products, I can be found putting them to the test, often with help from my two young children, in the 1860s townhouse I'm restoring in my free time.

Recently Tested Grills
1 – 2 of 12