Do these maintenance tasks now and reap the rewards later
Early fall is the right time to get your yard and house in order because come winter, small problems can turn into expensive nightmares.
Consumer Reports' money-saving checklist covers everything from fallen leaves to your furnace. And many of these fall chores cost little more than time and effort. "A little bit of preventive maintenance now will help you avoid big hassles in the future," says John Galeotafiore, who oversees CR's testing of outdoor power equipment and other home gear.
And if you need some new gear to take advantage of these tips, we've got you covered. CR members can view our picks for top mulching mowers, roof shingles, and smart thermostats, below.
Outdoor Chores With Immediate Payoff
Once the winter freeze-thaw cycle kicks in, a tiny leak in your roof can turn into a crevasse—and a $10,000-plus repair job. Clogged gutters and dribbling spigots can also do a lot of damage, so take advantage of the cooler weather to do home and yard repairs and spruce-ups.
Get Some Leaf Relief
Fallen leaves can kill grass when they're matted down by snow. Leaf piles can also attract rodents. But using leaf bags means work, and waste if they go into a landfill.
What to do: Make use of your lawn mower's mulching mode. Ground-up leaves nourish the soil, which saves you money down the line. You might need to make a few passes to slice the leaves small enough to decay.
What you save: Along with saving the cost of leaf bags (Americans spend millions of dollars a year on bags alone), you sidestep the back-breaking stooping and bending of raking and bagging. When it's time to replace your mower, use our ratings to find a model that's the right fit for your yard. See the three mowers that lead the pack when it comes to mulching, below. More on Fall Cleanup CR's Leaf Blower Ratings & Buying GuideCR's Complete Guide to Fall Lawn CareThe Quietest Outdoor Power GearBest Backpack Leaf Blowers of 20215 Reasons to Choose Battery-Powered Lawn Tools
Check the Roof
Leaks can eventually damage the wood sheathing and rafters below your shingles, leading to thousands of dollars in repairs.
What to do: Use binoculars to spot cracked, curled, or missing shingles safely from the ground. Consider having a roofing pro check flashing around chimneys, skylights, and roof valleys for leaks, and the rubber boots near vents for cracks that can let moisture seep in.
What you save: At roughly $3 per square foot installed, new sheathing would total $6,900 for a 2,300-square-foot house if you had to replace all of it. Figure on an additional $7,000 to $10,000 to install new shingles, plus added costs if the roof rafters need replacing. Worst case, and you need a new roof? See CR's top-rated shingles across the three categories we test, below.
Clear Gutters
Gutters stuffed with leaves, pine needles, and other debris can let water spill over the side, pool around your home's foundation, and seep inside. Water that freezes in gutters can force snow and ice into roof shingles, causing damage and leaks.
What to do: Consider a gutter-guard system to keep debris out. Make sure that gutter drains extend 5 feet from the house and that soil slopes away from the foundation 1 inch per foot for 6 feet or more.
What you save: It costs about $300 per year for a pro to clean gutters in the fall and spring. That might be worth it rather than risking a fall off a ladder if you do the job yourself.
Close Your Hoses
Pipes can burst when water inside expands as it freezes, creating an expensive mess in your home.
What to do: Shut off inside valves that control water flow to hose spigots. Then briefly open the spigots to drain any leftover water in pipes and hoses. Also drain water from supply lines for water sprinklers and pools, and shut off inside valves that control them. And help prevent freezing by insulating pipes in unheated areas.
What you save: Thousands of dollars in plumbing repairs and water damage, especially if pipes burst and cause a flood while you're away.
Inside Jobs That Save You Money
If your house is drafty and your furnace needs maintenance, you'll be paying more to keep warm this winter than you have to. With a little caulk and some elbow grease you can tighten the building envelope of your home. Your furnace is less likely to fail on a cold day if you do some quick maintenance now.
Automate Energy Savings
Simply lowering temperatures by 10° F to 15° F while you're at work or asleep can trim 15 percent from your heating bill.
What to do: You can lower temperatures manually on any thermostat or install a smart or programmable thermostat, about $40 to $250, to do it for you.
What you save: Setting temperatures back can save you up to $100 per year based on average heating costs. That's $500 in your pocket after just five years. See the are three top picks from our tests of programmable thermostats, below.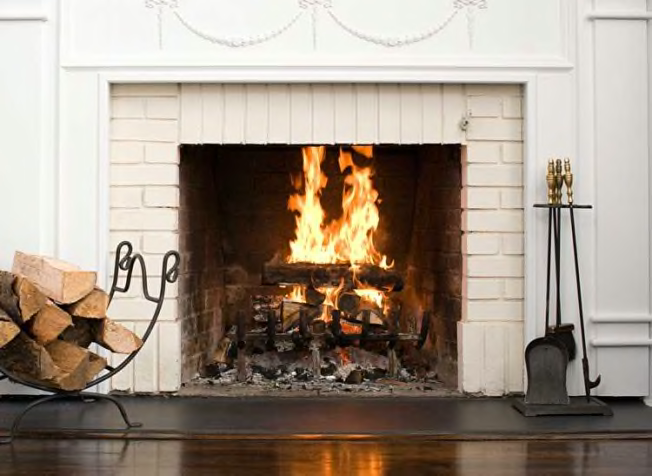 Plug the Leaks
The swiftest savings come from sealing air leaks in your home's walls, windows, and especially its ductwork.
What to do: Sealing and insulating your home's air ducts are jobs best left to a professional. But you can use a combination of caulk, foam board, expandable sealant, and weather stripping to plug leaks around windows, doors, electrical outlets, and other openings.
What you save: Plugging leaks could lower your annual heating and cooling bills by $400.
Replace Furnace Filters
A dirty filter reduces heat and airflow, which can lead to expensive repairs.
What to do: Check the air filter in the furnace or heat pump each month. And have a pro check the system annually (about $120), tightening electrical connections, lubricating moving parts, and checking drains, controls, and connections for oil and gas systems.
What you save: About $200 to $300 or more for service calls and repairs, plus the discomfort and risk of frozen pipes if your home's heating system shuts off.
Clean Your Chimney
A wood-burning fireplace or stove may be cozy, but creosote buildup can impede the flow of smoke and cause chimney fires and carbon monoxide poisoning. Even unused chimneys can develop cracks that weaken the structure.
What to do: If your chimney hasn't had a recent inspection, now's the time. Figure on about $150 to $300 for an inspection and a sweep. Go to the Chimney Safety Institute of America's website to find industry-certified chimney sweeps, and check with the Better Business Bureau for complaints.
What you save: Up to $5,000 if the chimney flue liner cracks; thousands more if there's a fire.